The Cahoon Museum of American Art's facilities include a historic building united with a modern addition. The blending of old and new architecture accommodates the museum's broad presentation of American art from the 1800s through contemporary art.
The Crocker House
The stately Colonial Georgian home that constitutes the original part of the museum was built between 1775 and 1782 by early Cotuit resident, Zenas Crocker. By 1821, his grandson Ezra Crocker was operating the place as a tavern, an important overnight stop on the stagecoach line between Sandwich and Hyannis. Many of the building's period details are still intact.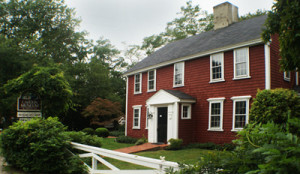 The building continued under Crocker ownership for five generations until the 1920s. In 1945, artists Ralph and Martha Cahoon purchased the house to use as their residence and studio, using many of the rooms for the display of their painted furniture and antiques. Following Ralph's death in 1982, local art collector Rosemary Rapp purchased the house with a vision of opening a museum; her dream was realized in 1984 with the founding of the Cahoon Museum of American Art.
Expansion
Between 2014 and 2015, the Cahoon Museum underwent a major renovation of its historic building and added a new addition while operating offsite at a temporary location. The Museum reopened in May 2016, with an additional 3,600 square feet of new space, doubling its exhibition space and giving enhanced access to the Museum's collections, as well as providing more space for programs that serve the community.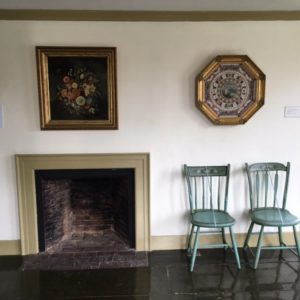 Renovation
A grant from the Town of Barnstable's Community Preservation Committee contributed to the Museum's renovation of its historic building, including repairs to the building's foundation, rehabilitation of the original leaded windows, and refurbishment of multiple structural elements; a grant from the Massachusetts Cultural Council's Cultural Facilities fund supported the construction of the new addition, which was designed by Steven Cook of Cotuit Bay Design and built by Cape Associates.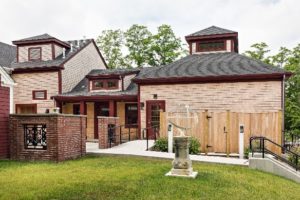 New Addition
The scale, aesthetics, and materials of the new addition echo the existing architecture, creating a contiguous façade which blends the old and the new. The Cahoon Museum design distinguishes the addition from the original building by stepping the addition back from the corner of the building, using separate roof massings, and keeping the addition's height lower than that of the original buildings. Features of the addition include a vaulted-ceiling gallery, a multi-purpose classroom and workshop space, fine art storage, a lobby and gift shop area, new outdoor courtyard spaces, and accessibility features such as an elevator and handicapped restrooms.