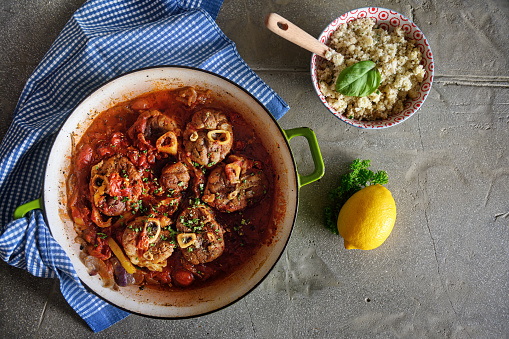 Classis Osso Buco Dinner with Chef Joe Cizynski
January 24 @ 6:00 pm

-

8:00 pm
This velvety-tender, rich braise is an authentic taste of Northern Italy. Veal shanks are popular in many European cuisines, but it's in osso buco, the northern Italian classic, that they can be at their most heavenly. These veal shanks, braised in a sophisticated and subtle wine sauce, then finished with a bright gremolata (fresh parsley, lemon zest, and garlic), have an undeserved reputation of requiring large amounts of both time and expertise in the kitchen. But few dishes are more forgiving or more seductive. Like most braises, it does require slow, gentle cooking, but it doesn't take much hands-on work. Tonight, we will start with a hearty winter green salad with truffle vinaigrette, osso buco with gremolta and risotto alla Milanese, and finish with a creamy ricotta tart. We will pour complimentary Nebbiolo from Piedmont.
Tickets: Member Price $65/ Price $75
For more information, click here.