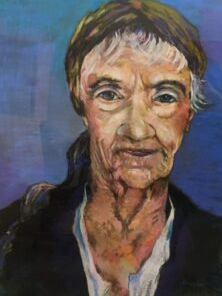 Portrait Exhibit: Friday Figure Group and Portrait Class
March 1, 2022

-

March 31, 2022
Friday Figure 'drop in' class has met for nearly twenty years each Friday morning at Falmouth Art Center.  This show represents a sampling of artists from past years as well as current attendees. Many are faithful to attend every Friday and for years.
 We have been inspired and critiqued by each other. Some artists are well accomplished and others are new to the genre. Many have continued to attend for years. We enjoy great camaraderie and are a real 'mutual admiration society.' We often meet in an outdoor setting in good weather, otherwise inside studios.
  Our models come from the general population and it is often a first for them. They are surprised and intrigued to see the variety of interpretations as artists work in a variety of mediums and styles: oil, watercolor, pastel, charcoal, pen & ink, and clay! Some artists focus on portrait painting and others render the full clothed figure.
This class is 9:30-noon on Fridays, so many do 'alla prima', a work complete in one sitting. Others take pictures to continue to finish.
This show also includes the current works of those who have taken Dan Hanagan's 'Portrait painting' class.
For more information, click here.